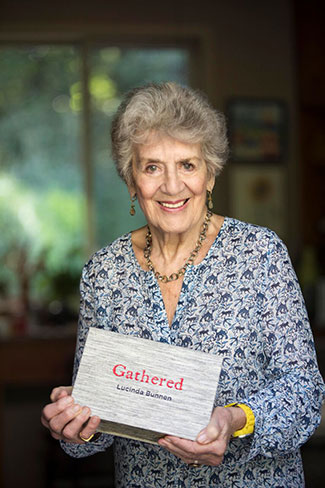 Photos © Billy Howard
Introducing Lucinda's new fine art photo book, Gathered
Lucinda's seventh book to date, Gathered offers a glimpse inside her rich and colorful life by featuring simple and beautiful photographs of the incredible objects she has collected over the past several decades. Some pieces come from local artists, and some come from her travels around the world. Some pieces were inherited, while others were discovered at an auction or on the ground while taking a long walk with her dogs.  All of the objects photographed for the book are on display in her home and make up the fabric of her life and memories.
Bunnen said, "I have acquired many strange and wonderful things during the sixty years of life in my house, and each piece has a story to tell.  This year, I felt inspired to photograph these pieces, objects that have held meaning to me and appealed to the quirks in my guests' imaginations. I found two drop cloths in my garage, set up a tripod and got to work." The result is a stunning work of art that combines interesting objects, simple set-ups and the unique perspective of a gifted artist. Bunnen was influenced by the Japanese aesthetic of wabi-sabi.  She said, "Wabi-sabi is the antithesis of sleek refinement, perfection and what our western culture considers beautiful.  Instead, it's seeing and honoring the simple, irregular, rustic, imperfect and authentic that surrounds us every day."
In keeping with the theme of Gathered, the beautifully-conceived and designed accordion book is an art object unto itself. Bunnen worked with photo editor Barbara Griffin and book designer Laurie Shock to bring Gathered to life. Gathered is now available for purchase on our website. Each book will be signed and numbered.  Bunnen will have an exhibition of her work from Gathered at Mason Fine Art Gallery from September 13 – October 31.
Click here for more information about this book.